Over 18-23 September 2005, around 400 researchers and practitioners met in Vienna, Austria for the 9th European Conference on Research and Advanced Technology for Digital Libraries (ECDL 2005).
The conference offered a fascinating and varied programme, starting with a set of six tutorials on the Sunday, covering general concepts and formal frameworks for digital libraries, context-enhanced digital library services, thesauri and ontologies in digital libraries, building digital library collections with Greenstone and DL interoperability standards.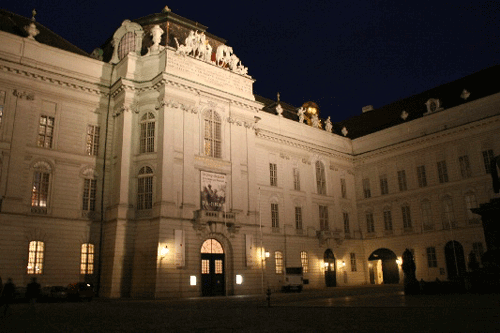 The imposing exterior of the Austrian National Library by night and venue for the welcome reception of ECDL 2005
Tutorials were followed by a dense two-and-a-half-day programme of presentations. Keynote speakers were Neil Beagrie (British Library and the Joint Information System Council, UK) who addressed the potential of personal digital libraries, considering specifically the massive amounts of data that are and will be collected by the population at large as part of their day-to-day life, and the resulting potential of, and consequences for, personal information systems.
The second keynote by Erich Neuhold (former head of Fraunhofer-IPSI, now at Vienna University of Technology) picked up this topic and pointed out future directions in DL development, focusing particularly on the promises and challenges of integrating and combining DL, peer-to-peer and GRID technologies.
The quality of the presentations, held in two parallel sessions, was excellent, with only 32% of all papers submitted to the conference having been accepted for presentation. In addition to the presentations ECDL featured two panels. Donatella Castelli discussed with a prominent group of panellists one of the key messages addressed in the second keynote, namely whether digital libraries on the GRID will turn out to be heaven or hell; Tamara Sumner in her panel attempted to answer the question whether e-science needs digital libraries. The whole range of current digital library research as well as project activities was presented in a poster session, featuring research posters and application demos, as well as current project activities of the DELOS Network of Excellence on Digital Libraries (DELOS). Furthermore, a large group of PhD students had the chance to present and discuss their work not only within the ECDL Doctoral Consortium, but also with the whole ECDL community as part of the poster session.
Following the main conference programme, ECDL was rounded off with a set of well-attended workshops. CLEF, the cross-language evaluation forum, drew more than 100 participants during its two-and-a-half days of presentations and evaluation sessions. IWAW, the ECDL Workshop on Web Archiving and Digital Preservation was extended to fill an intensive two-day programme this year, with about 60 participants.
Both the NKOS Workshop on Mapping Knowledge organization Systems, as well as Healthcare in Digital Libraries (HDL), ran their successful 1-day format, generating intensive discussion.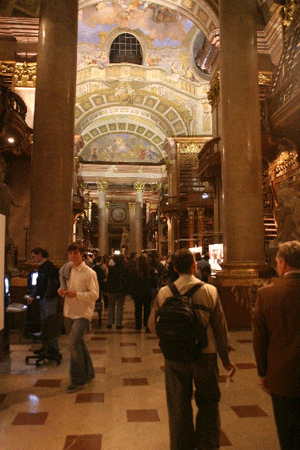 Delegates to ECDL 2005 visit the many splendid rooms of the
Austrian National Library
Apart from the scientific programme, ECDL 2005 provided plenty of social activities, allowing participants to get together, enjoy themselves, and discuss matters in an inspiring setting. An ice-breaking event on Sunday evening provided a chance to sample a variety of magnificent Austrian wines. The Austrian National Library hosted the welcome reception in its magnificent State Hall which made such an impression that many delegates were left wondering whether the move to make libraries all-digital was the right direction to go! Finally, the conference dinner was held in the grand Festival Hall of the Town Hall of Vienna, opened according to Viennese tradition with a dancing performance by the dance sports centre UTSK Casino Wien. It also provided the perfect venue for the two awards presented at ECDL, namely the ECDL Best Paper Award, sponsored by the IEEE Technical Committee on Digital Libraries (TCDL), which was awarded to Wolf-Tilo Balke, Wolfgang Nejdl, Wolf Siberski, and Uwe Thaden for their paper entitled DL meets P2P - Distributed Document Retrieval based on Classification and Content. The DELOS young researcher award was presented to Christos Tryfonopoulos, the primary author of the paper LibraRing: An Architecture for Distributed Digital Libraries Based on DHTs, co-authored by Stratos Idreos and Manolis Koubarakis.
Overall, ECDL 2005 proved to be a splendid opportunity for people to meet and discuss current core aspects of digital library research. Extensive photo documentation showing the highlights of ECDL 2005, are available on the ECDL website at http://www.ecdl2005.org
We are looking forward to continuing these discussions at the 10th anniversary of ECDL, which will be held over 17-24 September 2006 in Alicante, Spain. Details on ECDL 2006 are available at http://www.ecdl2006.org